Gateway 3DS cards
Gateway 3DS offers the most advanced set of cards for playing NDS and 3DS rom, creating backups, downgrading your consoles firmware and enabling homebrew on the Nintendo DS, DSi and new 3DS.
SKY3DS Flash Card
The easiest way to start playing 3DS roms that is game backups is using SKY3DS. There is no messing with the firmware or rom-select menu updates. (Game roms are switched using the blue button on the Sky3DS cart)
R4 3DS Dual Core
For playing 3DS roms you will need the new generation GATEWAY 3DS or SKY3DS cards but this R4 SDHC gives access to all the classic DS and older games on New 3DS, 3DS XL, 2DS. + Real time save enables users to stop and resume playing any time in the game!
R4 3DS 4GB Combo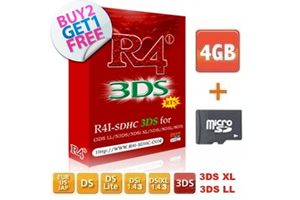 R4 card is the best upgrade that you can buy for a Nintendo DS. Supports NDS roms, Emulators of NES, GameBoy, MAME, SNES and other cobsoles, MP3files, Video, eBooks and even Comics! Now compatible with 3DS (for playing NDS on 3DS)
NDS9.com Site News
NDS & Nintendo 3DS R4 Flash Cards
.. will return shortly!
DS Happy Box
Download thousands of NDS games for free
Automatic decompression, automatic sort
The exclusive NDS platform software
Six languages versions will be released during the New Year!